thats the name of my sisters doctor. Dr. Widness. Pray for him because the man needs help. No one can figure out what is wrong with her, and she is hurtin.
here is me typing this blog:
I got a new phone with an awesome camera in it. So be excited about way more pictures. Usually they will be of Chicago and places I go but enjoy Colorado for now.
This was such a long weekend, and I have an even longer week ahead of me. Man, Im so tired and just down.
There were a few highlights this weekend though.
My cousin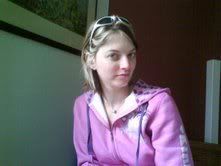 and cousin in law (fc 1 and 2) came to visit and hang out. Her husband is from England and they apparently do not play UNO there so we had to teach him. I helped (cheated mildly) him to pour vengenace upon my aunt
(his mother in law) in the form of draw two and draw fours because she was being such a stickler about the rules and no help for him. We laughed alot and ate calzones. The game really seemed to perk up my sister and her blood pressure got as close to normal as it would all weekend.
The hospital she is at had a pamphlet on a therapy dog service and I was excited. On sunday I inquired and they signed her up. An hour later, there was a knock on the door and in walked a young man and the enormous fuzzy Missy the therapy dog complete with little tiny green bows in her hair.
They stayed for a few minutes and we talked about and pet Missy and it was fun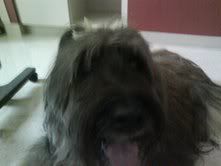 But this young man told us you can bring your own dog to the hospital. We were like WHAT???? We love our dogs in our family, like LOVE to love to love our dogs. My boyfriend often says I like dogs more than people and that may not be entirely false.
SO here is some documentation of her dog, Banana, visiting her in the hospital and cheering her greatly! What a great idea this hospital has!
\