I am not sure if you are aware of that song from the 90's but its in my head and an appropriate title!
My mom came out to Colorado so I came home. Since it was a last minute changing of the guards type of deal, plane fares were outrageous which was perfect because I hate hate hate flying. SO I took the Amtrak. I guess I would have to disagree that its the way to really fly, seeing as how it was supposed to take 18 hours and 41 minutes but it really took like 23 hours. Also, I pretty sure if I was in better shape I could have riden a bicycle alongside the train at the same speed if not faster. But the seats were comfortable and for the most part I was left alone to relax which was good because I needed it.
So here are the highlights (with pictures) and lowlights of my first big girl train ride:
The seats were nice.
I got to just look out the window and watch stuff go by.
I colored pictures for like three hours and listened to my IPOD.
I met a man who was from Alexandria, New Orleans. His name was Mr. Steers and he was 60 and looked like an older, balder Bruce Willis. He was friendly and we talked at the station and he was a happy nice man. We parted ways as we boarded the train on different cars but I caught up with him in the morning in the viewing car. Here he is entertaining two kids who had tired out their mom with their incessant talking. As you can see he is wearing a Superman shirt, which is funny because the kids thought he was really Superman and thats why they started talking to him. The boys were Jazmon who was entering first grade this year and his younger brother Jason. Jazmon was wearing a power ranger shirt and thought he WAS the red ranger. Jason was wearing a spiderman shirt and thought he WAS spiderman. So it makes sense that when they saw happy smiley Mr. Steers in the lounge car they were excited to have a superhero meeting. Besides hearing the three of them talk about their "lives" as superheroes, I was entertained when Jazmon took off Mr. Steers hat and was surprised that he was bald. Jazmon says, "why dont you have hair?" and Mr. Steers, much to my joy and appreciation replied, "I do. Its invisible hair."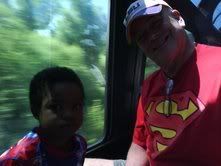 When I departed the train, delayed four hours or so, exhausted, drained, hot, and having to use the bathroom (see low lights)I was blown over and surprised to see Marquis waiting for me. I was so happy and thrilled I cried. He laughed and hugged me and carried my heavy computer bag (stuffed to the gills with books I didnt get a chance to read and my laptop) and 50 lb suitcase six blocks to the green line, then up the stairs the the blue line, then to transfer to the bus then 4 blocks home as I pranced along side of him carrying a bag of pretzels and my purse! I felt like a princess or something and smiled the whole way. I have zero idea what I would have done if he had not thought to meet me. I am not strong. I have never seen someone do something so incredibly unselfish and wonderful for me. He sacrificed his time and his body (those were very heavy bags)and I just love him to death and am still so impressed and touched at how much he loves me for no good reason. I am very difficult and slightly crazy.
ON that happy note, I will end this post and fill you in on the lowlights of the trip tomorrow.
To be continued...